View the Sistine Chapel ceiling pictures at the ground level at the World Trade Center's Oculus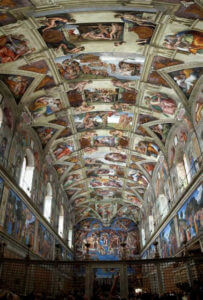 Michelangelo's frescos on the ceiling of Sistine Chapel in Vatican City are conveniently brought down to earth by the very modern means of digital photography and are displayed in the Oculus of NYC World Trade Center Transportation Hub.  The visitors have the convenience of enlarged images to see all the details of historical paintings, the spacious and well-lit hall housing the freestanding plinths with good labels to follow the Creation story from the Book of Genesis and the modern architectural design of the Hub by a Spanish architect Santiago Calatrava all in one place. No hurrying up by the guards and neck craning necessary.
Sistine Chapel in Vatican was built in 1477-1480 by Pope Sixtus IV for whom the chapel is named. The Chapel is used for special ceremonies of the close circle of the Pope and is a place were the Papal Conclave of Cardinals meets to elect a new Pope.
Read more at https://www.arts-ny.com/upclose-michelangelos-sistine-chapel-frescos-oculus-nyc-2017/